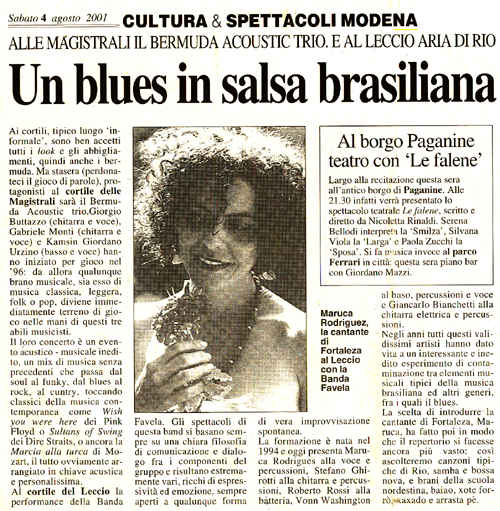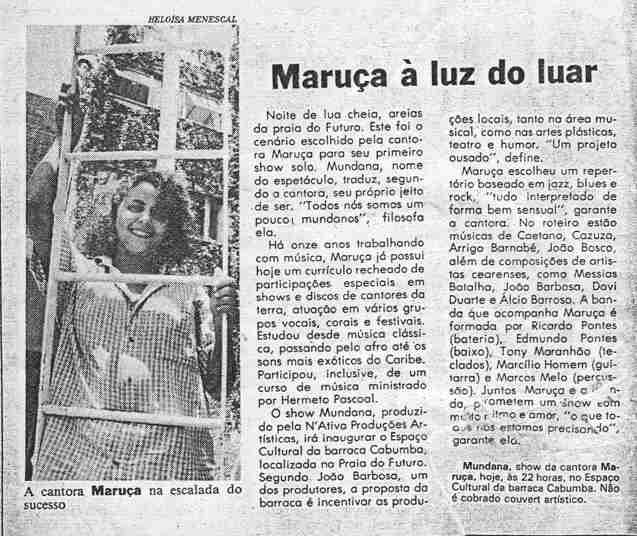 DISCOGRAFIA

- Nel 1998 ha pubblicato il primo CD intitolato "UTUKUTU". Prodotto da RadioLine srl ñ Italia, distribuito da Materiali sonori
- Nel 2001 ha pubblicato con BANDA FAVELA il CD "O RITMO MISTURADO' Irma Records,-Italia
- Nel 2002 nel CD "VIA JANEIRO" DJ Marce Ccere il brano intitolato "CARLINNHA" Jet Lag recording -

FORMAZIONE MUSICALE E VOCALE

Studi di viola sotto la guida dei maestri Jafâ e Wasquem Fermaniam.

ESPERIENZE FORMATIVE

-partecipazione presso la scuola tecnica federale del Cearà
-partecipazione presso il coro privato "D'Angelis"
-partecipazione presso líuniversità statale del Cearà- partecipazione presso líuniversità federale del Cearà.
- Incontro Corali delle scuole tecniche federali a Goiania (1979) e Belo Horizonte (1980)
- Femaco - festivais maranhense di coro
- Incontro di corali di Sao Bento Olinda (1982/84)
- X Festival Brasiliano del coro, Rio de Janeiro (1989)

CORSI DI FORMAZIONI

-Nord est 1984, attualizzazioni in viola, III incontro musicale dell'Università federale del Cearà
-Nel 1984 Università statale del Cearà, corso per docenti di musica
-Nordeste 1985 - Ambientazione orchestrale, incontro musicale dell'Università federale del Cearõ
-Nordeste 1985 - Ambientazione corale
-Nordeste 1985 - corso di Musica contemporanea con il Prof. Lindembergue Cardoso
-Nordeste 1986 - stage ambientazioni corale dalla polifonia rinascimentale e interpretazione corale nel Rinascimento con il Prof. Kollruetter
-In concomitanza al 1° Festival Latino Americano díarte e cultura frequenta i seguenti seminari:
-Musica popolare brasiliana a cura con il musico e maestro Hermeto Pascoal
-Musica afro-brasiliana e caraibica a cura di Joge Carvalho e Terry Agerkop
-Musica dellíAmerica Latina a cura díOlavo Rodrigues (Cuba)
-Improvizzazioni Musicale con il gruppo "Le Jeu de la Tribú" (Francia)
-Tecnica vocale a cura di Lailah Carvalho, Julia Smith, Paulo Abel do Nascimento,
Izaira silvino ed Angelica Heleri.

Attualmente suona con il grnppo "BANDA FAVELA"


Maruça Rodriguez De Lima

Until today, many female Brazilian singers have entertained us with their energy, personality and high-leveled technique. I am very satisfied with their performances. It's rare, however, to encounter with a voice which works directly on our imagination.

Here in Italy, you have a very unique voice: Maruca Rodrigues de Lima. A voice from Fortaleza (north of Brasil) , which directly influences on our imagination. Once I attended to her show with Banda Favela. After the show, I felt as if I had returned from a long voyage. The voice of Maruca was a guide to the virtual voyage. She sings with energy, techniques and original style, but she has more: absolute expressiveness, which stimulates our imagination. Her voice matches perfectly with all styles of music -jazz, funk, techno, samba, forro, baiao, old African songs. And it expresses everything - not limited to emotions like love or nostalgia - body, spirit, nature, space, passage of time and artificial materials. It is a messenger of universe - just like a modern Orixa.

Talking about Orixas, Maruca put the symbols of Orixas on the cover of her album "UTUKUTU". Is this just a coincidence?



from Mariko Shiba (Yokohama Japan)
Até agora, tantas cantoras brasileiras teem me divertido com a energia, a personalidade e as técnicas altas. Eu estou muito contente com isso. Mas é muito raro que encontramos a voz que estimula a nossa imaginacao.

Aqui na Italia, a gente tem uma voz unica: Maruca Rodrigues de Lima. Uma voz de Fortaleza, Brasil que faz influencia na sua imaginacao diretamente. Eu assisti o show da Maruca com a Banda Favela no Japao. Depois do show, Eu senti como que eu voltasse da uma viagem longa. A voz dela foi a guia da viagem virtural. Ela canta com energia, as técnicas e o estilo original, mas a voz dela tem mais: expressividade absoluta, que estimula nossa imaginacao. A voz serve perfeitamente aos todos tipos de estilo - o jazz, o funk, o techno, o samba, o forro, a baiao, as cantigas africanas. E expressa tudo -nao e limitado às emocoes como amor ou saudade- o corpo, os espiritos, a natureza, o espaco, o corrente do tempo e ate as materias artificiais. E uma mensageira do universo ...como uma Orixa moderna.

Falando das Orixas, Maruca colocou os simbolos das Orixas na capa do album "UTUKUTU". Isso e uma mera coincidencia?

Mariko Shiba