She was born in the city of Fortaleza, at north-east of Brazil, from a family with native-brazilian origins.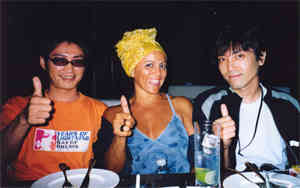 Yokohama Japan 08.2002
Since her childhood, Maruça was devoted to music. Thanks to her unmistakable voice, she created an ecliptic and interesting combination of sounds able to involve and fascinate the most heterogeneous audience.Her musical way is influenced by sounds originated from the meeting of different ethnical traditions and cultures of her vast country.
In 1977 she begun the study of the viola instrument and she started singing in choral music co-operating with many artists and musicians from ali aver Brazil.



Mundus Vezzano sul Crostolo Italy 08.2002
In 1991 she takes up her career as a solo singer with the concert "Mundana", achieving immediately a successful result from critics and public. Maruça studied vacal techniques for aver 15 years, camparing her style with various musical languages, passing by afro-Brazilian rhythms getting to classical and contemporary sounds. She arrives in Italy in 1992.
In1998 her first CD titled "UTUKUTU" was produced by Mr. Valeria Semplici (also producer of the Black Box group) and distributed by Materiale Sonoro - IT. In 2001 came out "VIA JANEIRO CARLINHA" in two different compilatians ( HAFA CAFE Compiled & Mixed by DJ Marco "Polo" Cecere, produced & Distributed by Family Affair Distributions Srl, and GLOBAL HOUSE distributed by Self - IT). The solo "VIA JANEIRO CARLINHA" is produced by Marco "Polo" Cecere for Jet Lag production.
Recently (spring 2002) the record company IRMA RECORDS has produced and distributed the new CD "O RITMO MISTURADO" where Maruça and her musicians (BANDA FAVELA) are collaborating with artists who are very well experienced and very well known in the world of Brazilian music. Through her way of singing and dancing during concerts and performances she is able to transmit to people the colours and traditions of her beautiful Brazil. You must experience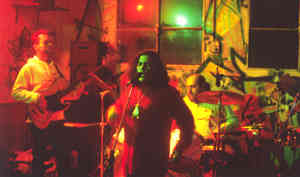 Great success in Japan for Banda Favela's first tour Banda Favela filled Motion Blue in Yokohama with pure Brazilian sound from Minas, percussive Samba beats and a new approach from Italy.
One of the highlights of their live performance is improvisation using many kind of percussion from all over the world, heavy drums&guitar&bass, female and male unison vocals and melodious accordion.
At the end of their shows, they played covers of Brazilian classics like Tristeza. Their performance made promoters and punters very happy.
Tracks from the Banda Favela album are currently being remixed, among the others, by Japanese artists.
Owl, who released stuff on Yoshitoshi, and Note Native who is the key record buyer at the Hot Wax record shop in Tokyo. Both of them were spotted at the show and had conversation for their next collaboration.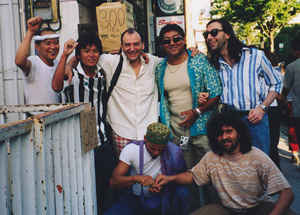 Finally, during the tour it was decided that Banda Favela will be featured on Japanese producer Bayaka's new album.

Musicians BANDA FAVELA

Maruça Rodrigues - voce solista, percussioni
Stefano Girotti - chitarra e percussioni
Roberto Rossi - batteria, percussioni, voce
Massimo Tagliata - Fisarmonica, flauto
Adailton De Sousa - percussioni, voce
Amalri Donovante - basso, percussioni , voce

LOS AMIGOS / LINKS


DJ Marco Cecere



Cantina Bentivoglio